HOME
The application period is now open.

Like our new facebook page and follow us on twitter @campcadet

Camp Cadet is a community funded program that allows young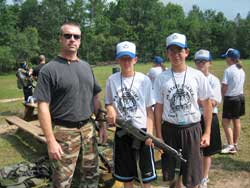 men and women ages 12-15 from Luzerne, Sullivan, Bradford and Wyoming Counites, an opportunity to see the real workings of the Pennsylvania State Police Training Program, developed by and coordinated through Troop P - Wyoming, PA State Police.
Donations via area businesses and private individuals offset the cost of sending a child to camp for the one week, law enforcement academy experience. Camp Cadet is not a corrections type program, it is an opportunity for youth to see what resources go into police science and experience the different avenues of law enforcement.