The application period is now Closed!
---
The process is open to males and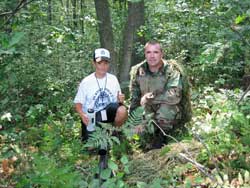 females within the ages of 12 to 15 years. Each application is reviewed and considered. Stop in to any of the Troop P stations located in, Luzerne, Wyoming, Bradford and Sullivan counties, for details.
Directions to Camp Kresge
> From Wilkes-Barre: Take Route 309 S towards Mountaintop. Just over the top of the mountain, look for Mountaintop Volunteer Ambulance on your left and the turn for Route 437 S. Follow 437 S (7.5 miles to the camp entrance). The camp road is 1.8 miles (one lane). If you reach White Haven's Town Center you've gone too far. The camp's phone number is 570-443-8870.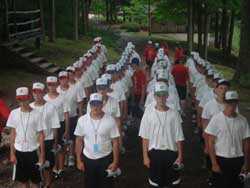 > From Interstate 80: Take Exit 40 (White Haven). To 940E for half a mile to Route 437 N through the town of White Haven for approximately 4.1 miles. The camp sign will be on a hill on your right and the entrance will be on the left in another 50 yards. If you reach the Crestwood Industrial Park on the left, you've gone too far.
List of Items Needed at Camp Cadet:
1. SLEEPING BAG, PILLOW, and FLASHLIGHT
2. TOWELS, WASHCLOTHS, SOAP AND SHAMPOO
3. TOOTHBRUSH AND TOOTHPASTE
4. NECESSARY UNDERGARMENTS and SOCKS (PLAN FOR TWO (2) PAIR EACH DAY)
5. ONE (1) PAIR OF JEANS
6. A MINIMUM OF FOUR (4) PAIRS OF BLACK SHORTS –TEN (10) PLAIN WHITE CREW NECK T-SHIRTS (NO V-Necks or Sleeveless) (shorts should be comfortable and as plain as possible)
7. SWEATSHIRT OR LIGHT JACKET
8. SNEAKERS – AN EXTRA PAIR IS SUGGESTED IN THE EVENT OF BAD WEATHER (you will be running in them so be sure the are laced and they fit well)
9. BATHING SUIT – Girls – ONE piece / Boys – (shorts type with liner)
10. RAIN APPAREL (vinyl poncho is adequate)
11. BUG REPELLENT AND SUNSCREEN
12. FEMALE cadets must wear their hair pulled back at all times so bring hair ties, rubber bands, etc.
*** PLEASE MARK ALL CLOTHING WITH THE CADET'S INITIALS ON THE TAG WITH A LAUNDRY MARKER TO PREVENT ANY MIX UP OF CLOTHING!***
DO NOT BRING ANY OF THE FOLLOWING:
1. KNIFE OR OTHER WEAPONS
2. RADIO, PAGER, CELLULAR TELEPHONE, ELECTRONIC GAMES
3. MONEY
4. FOOD
5. TOBACCO (INCLUDING SMOKELESS)
6. MATCHES OR LIGHTERS
7. JEWELRY OF ANY KIND (NECKLACES, EARRINGS, WATCHES)
8. CAMERAS
9. MAGAZINES, BOOKS
ALL BAGS WILL BE INSPECTED UPON ARRIVAL TO THE CAMP!