ABOUT
The Troop P Camp Cadet Program is a 1 week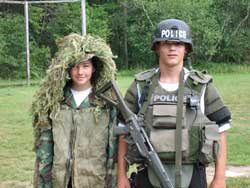 law enforcement program for youth, both male and female, developed by and coordinated through Troop P - Wyoming, Pennsylvania State Police. The overall activities are administered by State Police Personnel working in partnership with a volunteer community board. Candidates are between the ages of 12 and 15, and are from Luzerne, Sullivan, Bradford and Wyoming Counties, PA.
Camp Cadet
is not a corrections type program, rather a 1 week law enforcement academy experience, however, cadidates may also participate in community projects throughout the year designed to provide enhanced opportunities.
At the conclusion of this rewarding Cadet program, each Cadet participates in a graduation ceremony. Families and friends are encouraged to attend this powerful, emotional program designed to recognize the commitment and dedication of the Cadet Class.
Dignitaries from the PA State Police, representatives from various other law enforcement agencies and community representatives participate in this moving and memorable experience.